Login
Log in if you have an account
Register
Having an account with us will allow you to check out faster in the future, store multiple addresses, view and track your orders in your account, and more.
Create an account
7 Things To Do Before Proposing
14 Apr 2021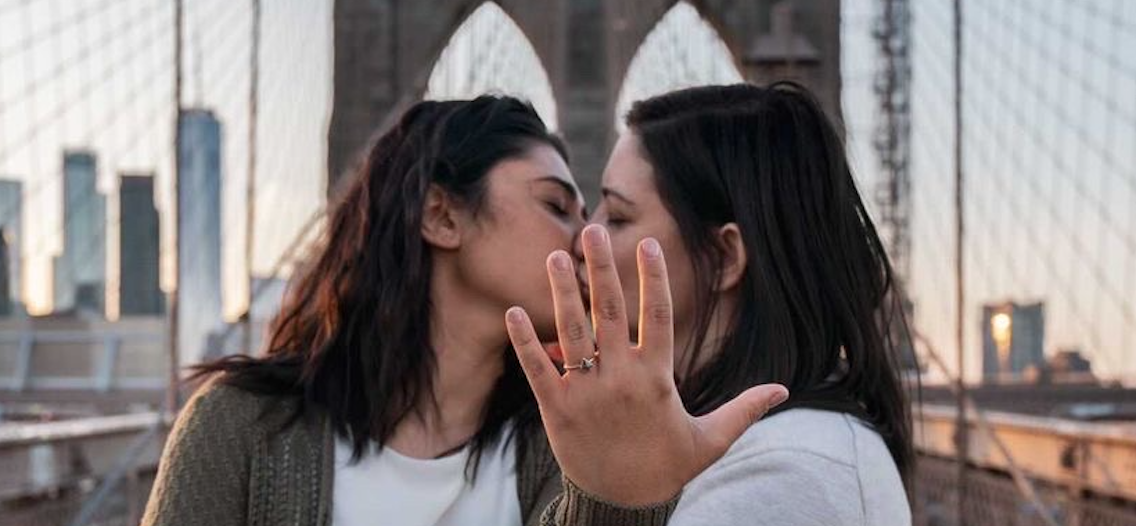 7 Things To Do Before Proposing
You've finally decided. Your girlfriend or boyfriend is the one, and you're ready to get down on one knee. Congratulations! Maybe it's something you've already talked about together, or maybe it's going to be a huge happy surprise. Either way, you're ready to start your engagement ring journey, and that can be difficult to navigate sometimes. There are seven things you need to check off before you're ready for the big day, and we're here to help. By the time you've completed these you won't have to worry about anything except for expressing your love to your future finance and starting your new chapter together. 
1. Type of Ring 
Your first decision is in regards to if you want to custom make the engagement ring, buy a made-to-order ring, or purchase a ready to ship ring. A custom engagement ring is made from scratch and is unique to you and your partner. This may be the perfect route if you have an heirloom diamond or other gemstone that you would like to use in your engagement ring. This is also a great option if you or your partner have a specific design in mind to use for inspiration, but you want to make a couple of your own personal touches. Your second option is a made-to-order engagement ring. This qualifies as a ring with a specified design, but you can adjust certain elements like the size of the center stone, the metal, or what kind of diamond you prefer. If you need help making these decisions, head over to our diamond guide. Lastly, there's ready to ship engagement rings. These designs need no modifications, and are ready when you are.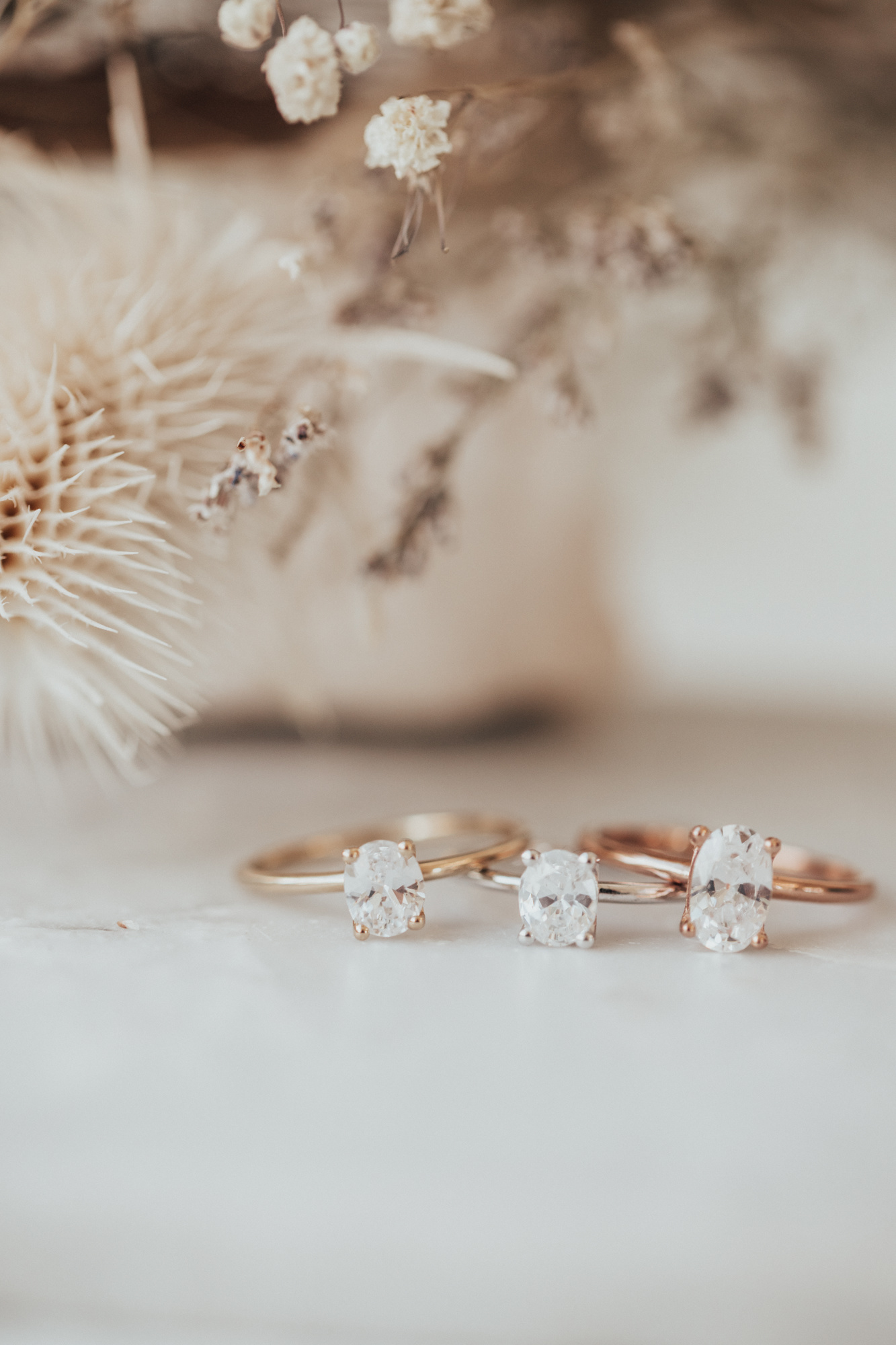 2. Timing
At Sarah O. Jewelry we offer all of these different kinds of engagement rings, but each one requires different timing. A custom engagement ring's timeline requires 2-3 months from beginning to end, but of course each ring is different because they are unique to you. Custom rings do require more planning on the front end of things, but they are well worth the wait. Secondly, a made to order ring can take anywhere from 2-6 weeks depending on what we have in stock. These rings need to be created with your selected modifications, so they do take some time. The last kind of ring we mentioned is a ready to ship engagement ring, which can be shipped in just 1-2 weeks. Since these rings are already made, all we need to do is size them to your request.
For any engagement ring, it's always best to plan for things taking longer than you thought and give yourself a comfortable window of time to get the ring and make sure everything is how you want it for the big day. 
3. Ring Size
If you're planning a surprise proposal, finding out your partner's ring size can be a daunting task. But don't panic, if you purchase an engagement ring at Sarah O. you will have one free resize which takes away the stress of getting it right the first time. Of course the easiest way to find your partner's ring size is to have them get sized by a jeweler or use a ring sizer. We have a ring sizer available for purchase on our website if you can find a way to get the ring size that way. We recommend being sized by a professional jeweler, even if it's not by the jeweler you'll be purchasing from.
One thing we like to recommend is having a close friend or family member get your partner sized at a jeweler by making it something fun to do or say they themselves need to get sized and then bring your partner along. Another option is if your partner already wears a ring on their ring finger, you can bring that piece of jewelry in and we can take measurements to get a ring size from. If none of these options are viable for you, no worries! We can use an average ring size, which is a 6.5, and make our best estimate from there.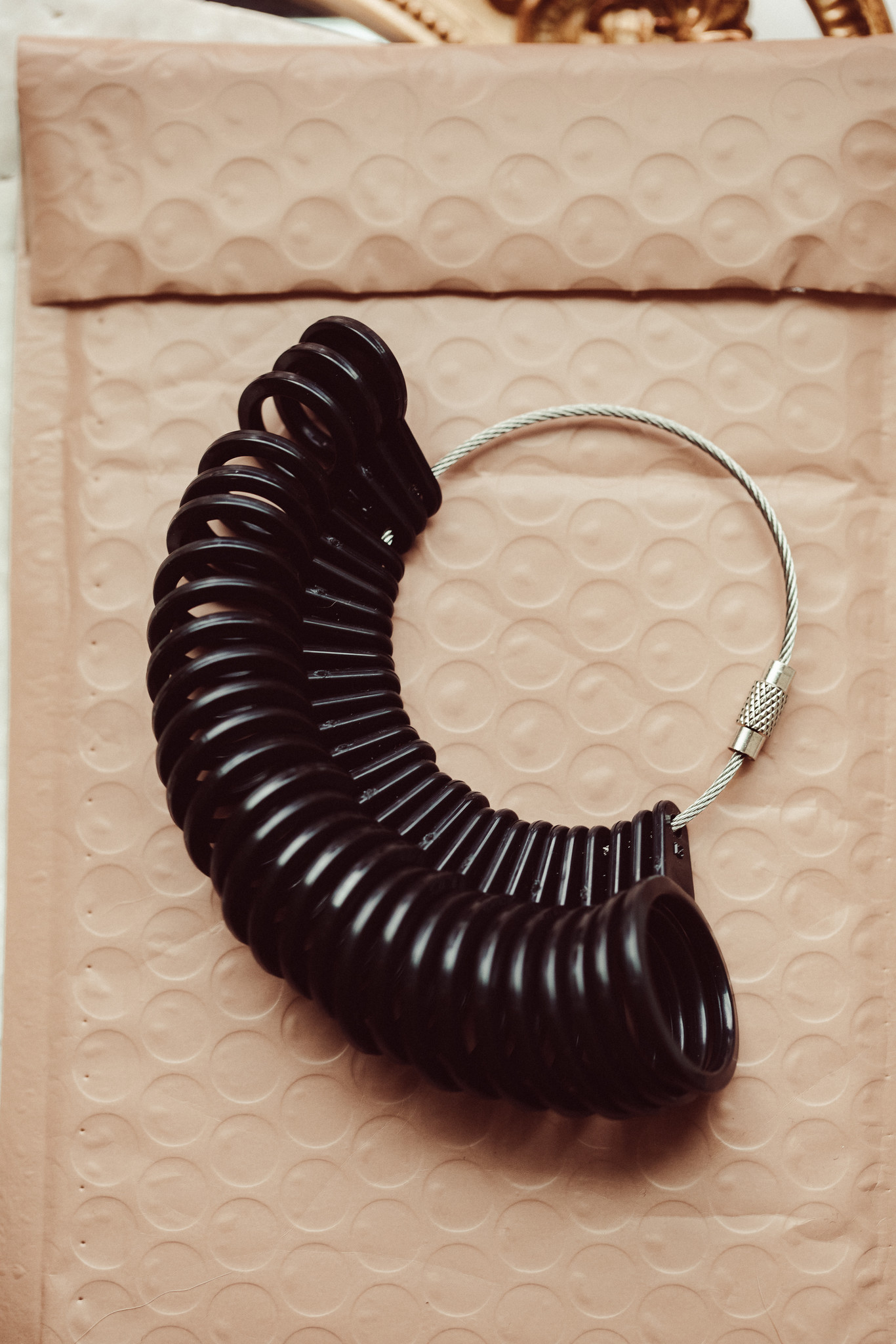 4. Insurance and Warranty
Even though it may not be the most fun thing to think about regarding your new engagement, insuring your ring is an essential part of the process. We recommend insuring your ring under homeowners, renter's, or an independent insurance company. We are happy to provide you with receipts or appraisals for mountings and stones purchased through us. We will cover the loss of the first melee stone under 0.05ct or any stone up to 1.5mm in length. However, Sarah O. is not responsible for the replacement of a stone if it is lost due to bent or damaged prongs due to neglect. Additionally, center stones are not under warranty, so insuring your ring is of the highest importance. 
5. Ring Box
Having a ring box is important even if you don't plan on proposing with the ring in a box for a few different reasons. The ring box gives you a place to keep the ring so you don't lose it, and also so that it doesn't get damaged. All of our Sarah O. engagement rings come with a ring box, but we also have velvet ring boxes available for purchase if you want to upgrade to one of our signature boxes. These beautiful boxes are also great for photos of the ring and make the proposal that much more thoughtful. 
6. Photos
Capturing this once in a lifetime moment is so important, and most couples love to have a photographer taking photos in real time. Coordinating with either a friend, family member, or hired photographer to capture your special moment is a great way to prepare. The last thing you want is having to ask a stranger for a picture after the moment has passed. Taking care of this beforehand will help ease your stress that day. Once the proposal is captured you can get those perfect couples pictures and get photos of the beautiful ring you've put so much thought into.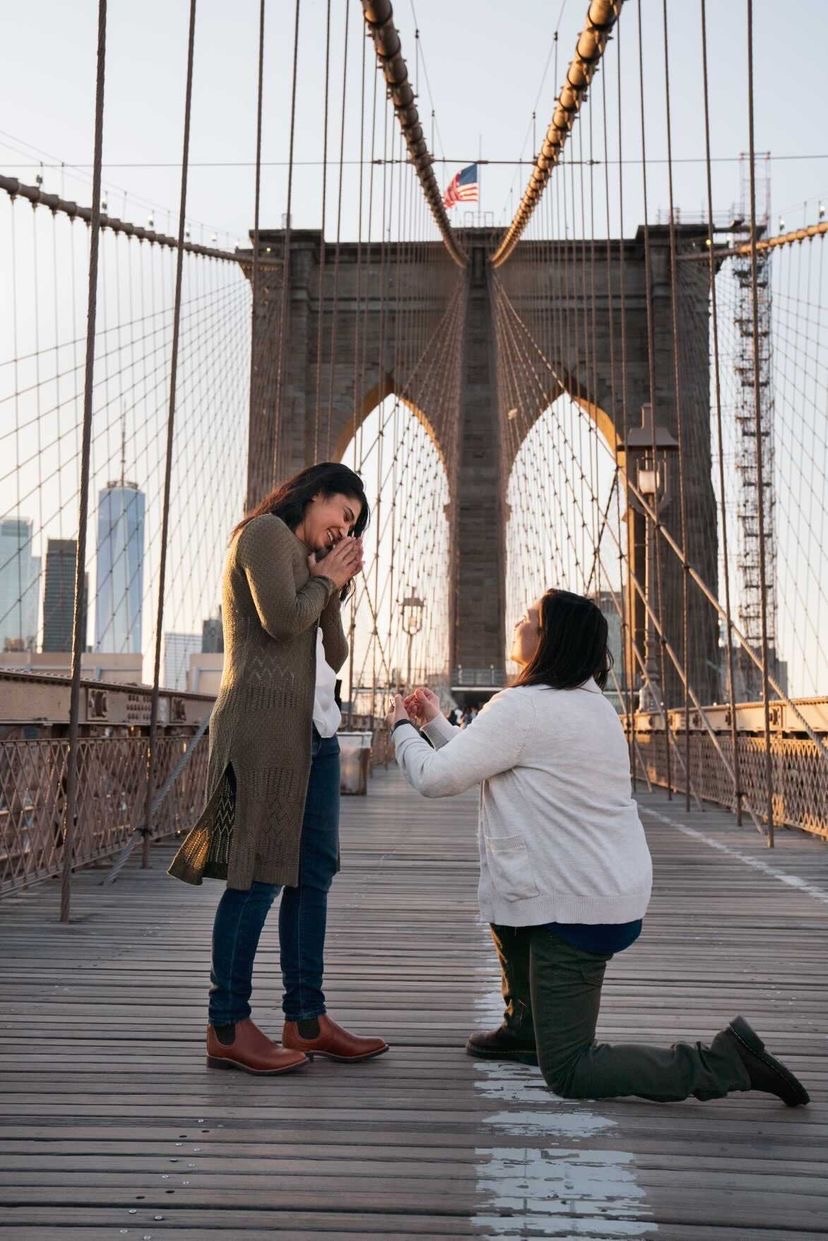 7. Spread the Word
Even though the day you propose is all about you and your partner, the people you love are also going to be very excited for you! Sharing the moment with loved ones in some way can ensure they get to be a part of the big day. Whether it's a celebration with close friends and family after the proposal, or a quick video call to share the excitement, this part of the day can mean so much to them. Plus, they will want to share their congratulations and well wishes for you both.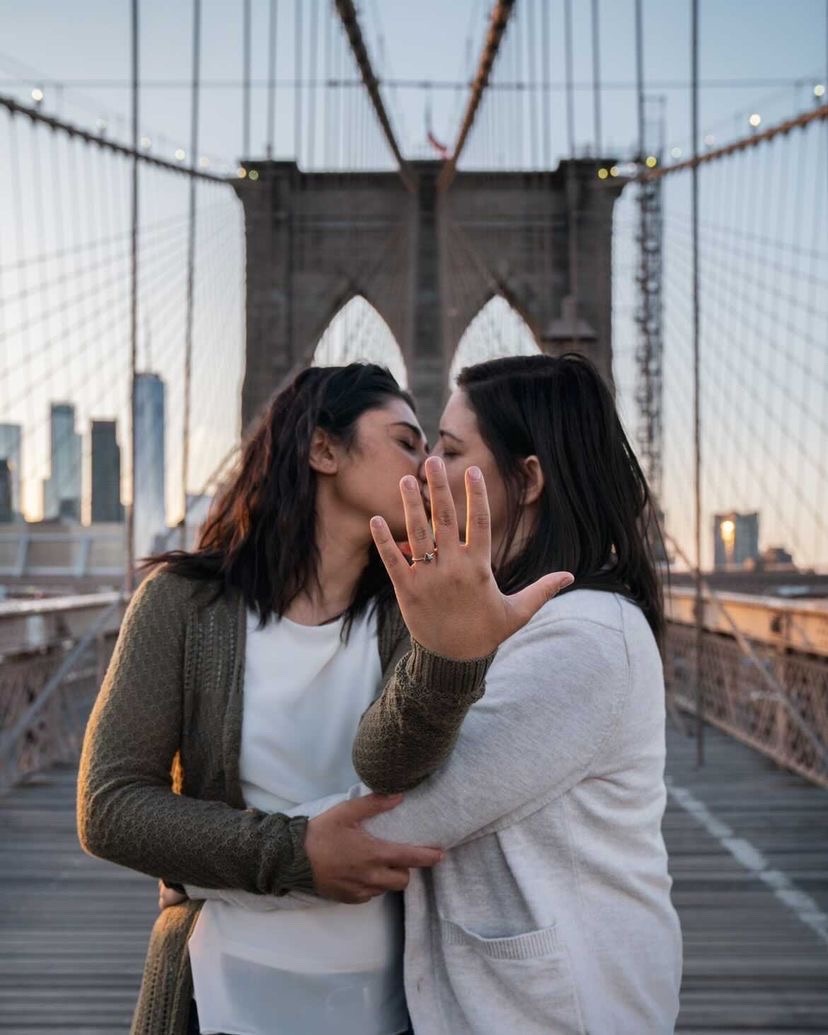 Bonus Tip: If you really want to go the extra mile, sneaking in a way to have your significant other get their nails done will be greatly appreciated. Of course this depends on if your partner likes having their nails done for special occasions, and this isn't something totally out of the ordinary. Finding a way to either have a friend take them out for a manicure or treating them to a mini spa day on your own is the icing on the cake to prepare for that big day. 
If you need help with your proposal, we're here for you!  You can schedule a shopping or custom appointment either in person or virtually to have the assistance of one of our designers. We'll help you find the perfect ring for your perfect person. 
Leave a comment